Table of Contents
EPDDI
Eventphone Decentralised DECT Infrastructure (working title was: Deutschland DECT) makes it possible - decentrally - to operate one or more DECT antennas and thus to expand an existing event with DECT telephony at any location.
Desired situation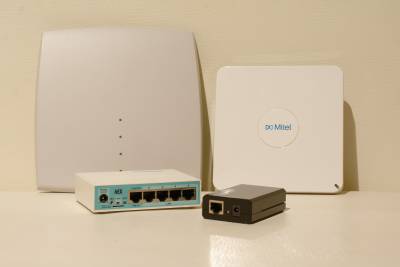 Kim wants to operate a DECT antenna in her hackerspace. She finds a manual in the Eventphone Wiki that describes which hardware (routers & antennas) are compatible and how she can use them. She downloads a script from GURU, copies it to her router and executes it. The router is then automatically provisioned and establishes a VPN to the Eventphone system. The connected RFP (antenna) is then also provisioned. From this moment on, within the range of the antenna, DECT telephones can be registered with the system and calls can be made. Router and antenna are automatically kept up to date.
Hardware
What hardware do I need?
You need a dedicated router connected to the Internet, an IP DECT antenna with power supply (power supply unit or PoE) and the appropriate cabling.
Compatible RFPs (antennas)
Since we use SIP-DECT > 8.1, only Mitel 3rd generation (RFP 35 IP, 36 IP, 37 IP, 37 DRC, 43 WLAN) IP DECT RFPs or 4th generation (RFP 44, 45, 47, 47 DRC, 48) IP DECT RFPs will work.
Attention! It is not easy to deduce the generation of the antenna from the numbers in the designation. It is sometimes mistakenly assumed that the first digit says something about the generation. This is not true. RFP 32, 34 or RFP 42, for example, are generation 2 RFPs and no longer work on the Eventphone system. Generation 2 and 3 RFPs are visually distinguished by two features. Generation 3 RFPs have cooling fins on the back and a USB port, Generation 2 RFPs do not. We also explain the differences in our 36C3 talk starting at 10:19. The Generation 4 RFPs differ in design. They are smaller and square (15 x 15 cm).
Compatible routers
MikroTik Router hex (also lite), hap (also lite) or RBx
We have a limited number of routers that we can also configure in advance. Please contact us and we will see what we can do.
Commissioning documentation
Borrow RFP for JEV 2022 (BubbleBridge)
If you want to run 6 or less DECT devices, it is cheaper and easier to use devices for home use or small offices. With these you can configure Eventphone SIP accounts and pair them with DECT handsets. Such functions are offered, for example, by many FRITZ!Boxes from AVM and various Gigaset products.
For Chaos Studios, Hackerspaces & Chaostreffs we can provide a small number of antennas for the event. antennas for the event. However, we need reliable contact persons who can take care of the shipping and make sure that we get the antennas back safely after the event.
To borrow antenna(s), please send us the following information by 09.12.2022 at the latest the following information in an email to poc 'at' eventphone.de:
---
Name of Chaos Studio, Hackerspaces, Chaostreff

Name of contact person

E-mail address

Telephone number (can be reached reliably)

A confirmation of return by 13.01.2023.

Number of antennas:

Estimated number of DECT terminals:
[ ] Yes, we will return the antenna(s) complete and in working order and will definitely not miss the deadline. We make calendar entries so that the PoC does not have to phone us to get the things back.
---
For sending the RFPs we will ask you for a DHL parcel label. Info You will receive information about this from us. You will take care of the installation and appropriate router.
Links
en/epddi.txt · Last modified: 2023/03/18 17:57 by sur5r
---