dect_device_plantronics_c540a
Table of Contents
Description and how to use the Plantronics C540A / CS540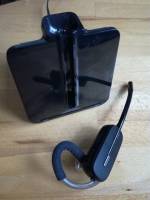 The Plantronics C540A or CS540 (sorry there are different designations on the headset and manual) is a DECT headset with only one button and a volume up/down switch. No number keys, no display. So you can't make a call from this device, or see who you are calling. Normally the headset is used with a base they are connected with a desk phone. The base is the DECT unit and the headset will connect to this unit insistently when you put the headset in the base for charging.
Connect
You can connect this headset without the base directly with another DECT unit (like a FritzBox or a professional Eventphone system). To connect, make sure that the DECT unit is ready to register a new device. Then press the headset volume up button until the indicator light turns on. When it's connect you hear a triple tone in your headset. In the 2018 Eventphone system, now you must call a token number to connect your right number with your device. Now we have a problem… we have no number keys to call a number. In my case a member of the PoC crew must generate the request, that will be send to the system when you do the token call, manually and send it. The headset receive a call, that this device is now successfully configured with the system. Well done. Now you can receive calls with the headset under the registered number. Please mind that the PoC crew is very busy on the first day of a congress. So it's better to ask for special support later when it's relaxed in the PoC headquarter.
Charging
Normally you can only charge the headset in the base. (If you find another way, you are welcome to share your knowledge here.) When you do this, the headset will automatically connect with this base. After this you must reconnect to the Eventphone system by press the headset volume up button again until the indicator light turns on. Give the system a little bit time and now you are back in phone business with your registered phone number.
In case you are changing the battery pack, there it's no problem. The headset reconnect automaticlly to the system. No new configuration is needed.
Links
User manual You will find a hint that describet how to connect to a other base on page 22 "Conference Up to Three Additional Headsets".
dect_device_plantronics_c540a.txt · Last modified: 2019/02/12 13:17 by zivillian
---