alcatel_handset_configuration
Table of Contents
Alcatel Handset Configuration
Phone Registration
Eventphone Registration at the PoC Helpdesk for Alcatel Handsets is similar to regular DECT phones. Things to configure:
In the registration mask, set the phone type to GAP+ and tick call by name to enable the phone book.

Ensure that the user's handset is in subscription mode. The mode looks like this on a Mobile Reflexes 100: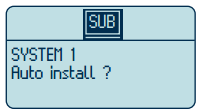 Start the Eventphone registration then hit OK on the handset to subscribe
If the mode can't be accessed, the user might reset their handset EEPROM to clear previous phone system associations.
Clearing the EEPROM on Handsets
Mobile Reflexes 100-400
alcatel_handset_configuration.txt · Last modified: 2018/03/01 19:47 by twi
---